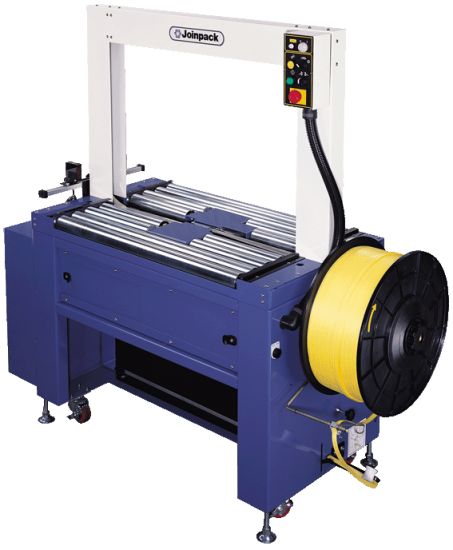 Description
Providing our customer low-cost automation to widely increase your productivity, Joinpack makes your strapping job easier with extraordinary competitive advantages. Accommodating to wide range of product sizes, effectively making the strapping securing process maximizes your production speed. Used for polypropylene straps in broad range of straps width, the automatic strapping can be applied for general industry usage with its conveyor table top advantage, integrated with your in-feed existed conveyor and out-feed conveyor.
This high quality table top automatic power roller drive strapping machine contains bottom heat sealed elements for maximum seal efficiency. (Minimum packaging size: W 350 x L 250 mm) With several valuable optional functions including auto load in feed and retracting system, loop ejector and short feeding detection device, the extra options features add up its strapping performance and its user-friendly characteristics. The top press unit extends more your strapping types to be made as request.
The most reliable and secure in-line fully-auto strapping equipment, an easy and quick packing equipment for your daily operation.
Features
Hinged power roller driven table top.

Stainless-clad steel roller.

Proximity cam switch.

All driven rollers which minimize dead space area.

Instant heating system.

Heating temperature from 230℃~460℃ for PP & PET straps.

Interlock photocells which minimize the accidental strapping.

Weld cooling time adjustable.

Up-stream and down-stream interlock.
Specification
 Cycle Time
 2.5 sec/strap
 Tension Range
 15~70 kgs
 Sealing Method
 Heating element
 Strap Width
 9,12,15.5 mm(specified)
 Reel Inside Diameter..
 

Ø

 200 , 

Ø

 230 , 

Ø

 280 mm
 Power Supply
 110/220/230V, 50/60HZ, 1 PH
 Power Supply
 220/230/380/400V, 50/60HZ, 3 PH
 Conveyor Speed
 18m/min(50Hz) 21m/min(60Hz)
 Table Height
 815mm
 Power Consumption
 1kw
 Standard Arch Size
 850W x 600H
 Layout Dimension
 1580(L) x 710(W) x 1538(H)mm
 Machine Weight
 286Kgs
Options
Auto loading system.

Looping ejector.

Coil end strap ejecting out.

Stacker light with buzzer.

Press unit.

Stainless steel housing.(SUS#304)